Arizona State University Orchestras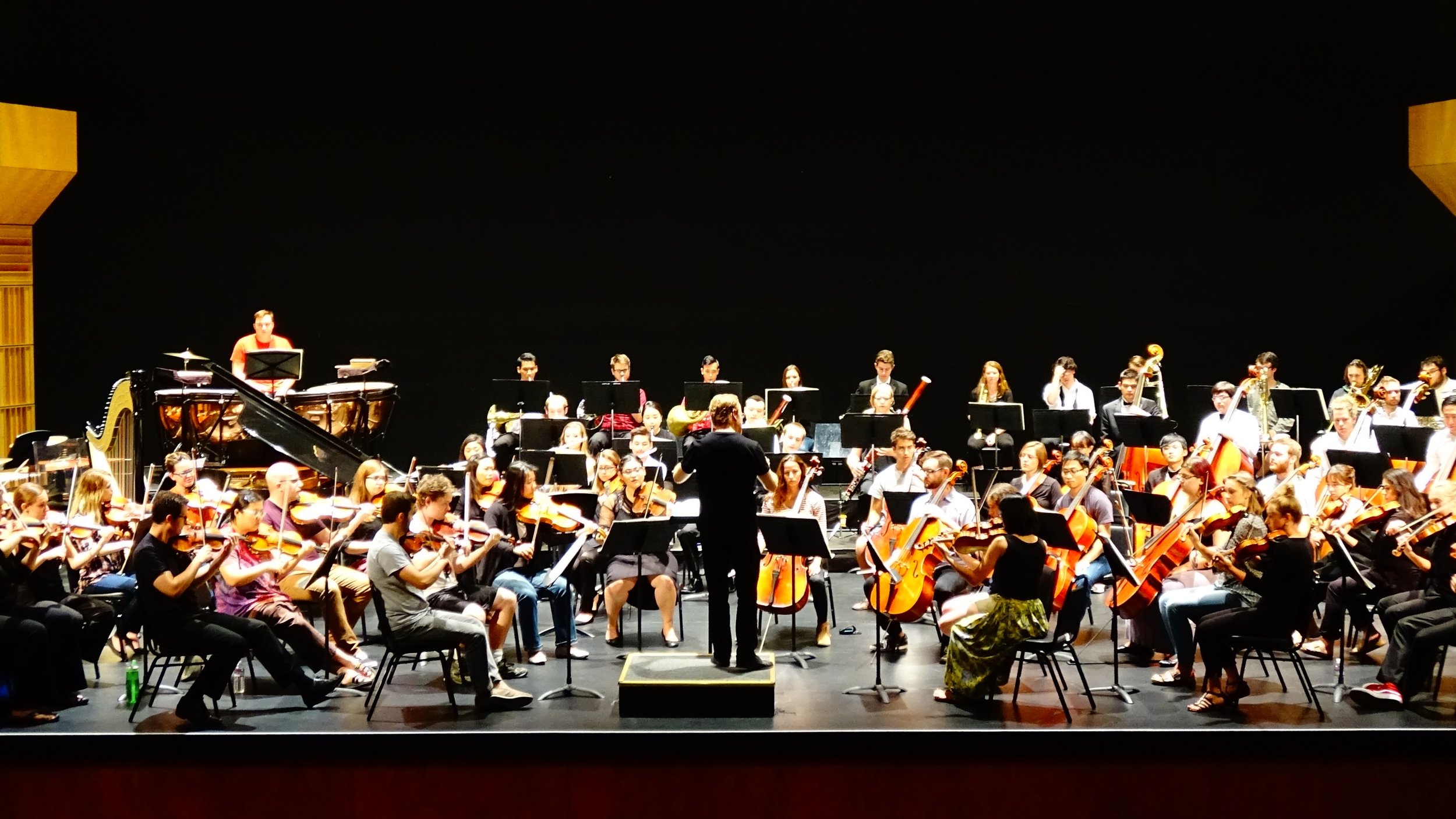 One of the nation's top performance settings for early professional and pre-professional musicians
The ASU Symphony Orchestra provides its members with intensive orchestral training and professional level artistic performance experience. Led by Jeffery Meyer, Director of Orchestras, the ASUSO performs challenging and diverse repertoire chosen to help emerging professional musicians develop a wide range of skills and aptitudes. Rich concert programming offers audiences and the greater arts community opportunities to engage with major works of the orchestral canon as well as cutting-edge works of our time. Exploring the full creative range of the contemporary symphony orchestra, the ASUSO seeks to perform canonical works with technical excellence and artistry while also pushing musical boundaries through innovative multi-disciplinary collaborations.
"The ASU Orchestras are rapidly emerging as some of the top ensembles in the country for early professional musicians. It is a great honor and responsibility to help prepare such talented and engaged individuals to thrive in a changing musical environment. This is an exciting time to be a young artist and the diversity of musical opportunities available to members of this orchestra is an inspiring vision of our collective future."
The ASU Symphony Orchestra aims to extend student learning through rich interactions with professional artists. ASU faculty are closely involved with their students' orchestral experience and regularly lead orchestral sectionals. The ASU orchestras also maintain a vibrant relationship with the Phoenix Symphony with frequent guest artist visits in both sectional rehearsals and side-by-side rehearsal contexts.
2017-18 ASU Orchestra Season
Phenomenon: Scheherazade and beyond
ASU Symphony Orchestra
Jeffery Meyer, Conductor
Ustad Shahid Parvez Khan, Sitar
Narong Prangcharoen, Guest Composer
Saturday, Sept.16, 2017, 7:30 p.m. ASU Gammage
The ASUSO will open its 2017-18 season with a diverse and innovative musical journey. Guest composer Narong Prangcharoen (Thailand) and sitar virtuoso Ustand Shahid Parvez Khan (India) will join the ASUSO, (re)framing Philip Glass' Offering in celebration of his 80th birthday. The journey will conclude with the 1001 nights of Rimsky-Korsakov's classic Scheherazade.
Narong Prangcharoen: Phenomenon (2004)
Philip Glass: Offering from "Passages" (1990)
Ustad Shahid Parvez Khan/Jacob Adler: Sitar Concerto in Raag Gavati (2015)
Ustad Shahid Parvez Khan, Sitar
Rimsky-Korsakov: Scheherazade

Modern Classics: Adams, Ligeti and Stravinsky
ASU Chamber Orchestra
Jeffery Meyer, Conductor
David Russell, Cello
Friday, Oct. 6, 2017, 7:30 p.m. Katzin Concert Hall*
Hailed as "superb" and "incisive"" in The Boston Globe, cellist David Russell joins the ASUCO in Ligeti's imaginatively intense Cello Concerto. The concert will continue with the mystical and meditative Shaker Loops by preeminent American composer John Adams in honor of his 70th birthday. Stravinsky's dazzling Pulcinella Suite will complete the evening.
Ligeti: Cello Concerto (1966)
David Russell, Cello
John Adams: Shaker Loops
Stravinsky: Pulcinella Suite
Prokofiev Romeo and Juliet
ASU Symphony Orchestra
Jeffery Meyer, Conductor
Gilbert Kalish, Piano
Thursday, Nov. 9, 2017, 7:30 p.m. ASU Gammage
The ASUSO presents one of today's most influential and renowned pianists, Gilbert Kalish, performing Mozart's C minor masterpiece. The program continues with Debussy's ground-breaking Afternoon of a Faun and concludes with Prokofiev's exquisite Romeo and Juliet.
Mozart: Piano Concerto No.24, K.491, C minor
Gilbert Kalish, Piano
Debussy: Prélude á "L´aprés-midi d´un faune"
Prokofiev: Romeo and Juliet, (Selections from Suites 1 & 2)
From the New World: Ko, Hidgon and Dvorak Symphony No 9
ASU Symphony Orchestra
Jeffery Meyer, Conductor
Tonia Ko, Guest Composer
Friday, Jan. 26, 2018, 7:30 p.m. ASU Gammage
"Why We Touch" Interactive Performance, Tonia Ko, 6:30 p.m. ASU Gammage
The ASUSO is proud to introduce the innovative and cross-disciplinary artist Tonia Ko to the valley. A one-of-a-kind preconcert interactive performance will explore the unique musical capacities of everyday materials such as foam, canvas, and bubble wrap. The evening's main event will feature Ko's Strange Sounds and Explosions Worldwide, Pulitzer Prize winning composer Jennifer Higdon's fiery Percussion Concerto and Dvorak's New World Symphony.
Tonia Ko: Strange Sounds and Explosions Worldwide (2015-16)
Jennifer Higdon: Percussion Concerto (2005)
Paul Vaillancourt, Percussion
Dvorak: Symphony No. 9
Beethoven Symphony No. 5
ASU Chamber Orchestra
Jeffery Meyer, Conductor
Stephanie Weiss, Mezzo-Soprano
Thursday, March 1, 2018, 7:30 p.m. ASU Gammage
ASU's Stephanie Weiss sings De Falla's remarkably beautiful and evocative El Amor Brujo Suite inspired by the songs and dialect of the Andalusian Spanish gypsies. The concert opens with an un-conducted performance of Mozart's Don Giovanni Overture and ends with Beethoven's immortal and heroic Symphony No. 5.
Mozart: Don Giovanni K.527: Overture
De Falla: El amor brujo: Ballet Suite
Stephanie Weiss, Mezzo-soprano
Beethoven: Symphony No.5, op.67, C minor
Berlioz Symphonie Fantastique
ASU Symphony Orchestra + ASU Gospel Choir
Jeffery Meyer, Conductor
Gordon Hawkins, Baritone
Daniel Bernard Roumain, Guest Composer
Wednesday, March 28, 2018, 7:30 p.m. Tempe Center for the Arts ◊
Monday, April 2, 2018, 7:30 p.m. Scottsdale Center for the Performing Arts º
In two evenings of concerts at the arts centers of Tempe and Scottsdale, the ASUSO presents a collaboration with ASU's Daniel Bernard Roumain (composer), Gordon Hawkins (baritone), and the ASU Gospel Choir. Roumain's Harvest focuses on the collective culture of the African American spiritual, while Mahler's Songs of a Wayfarer looks at the composer's own experience of loss and regret. The performance concludes with Berlioz's wild and radical Symphonie fantastique.
Mahler: Lieder eines fahrenden Gesellen (Songs of a Wayfarer)
Gordon Hawkins, Baritone
Daniel Bernard Roumain: Harvest (2004/2017) (World Premiere)
Gordon Hawkins, Baritone and ASU Gospel Choir, Jason Thompson, director
Berlioz: Symphonie fantastique, op.14
Mahler Symphony No 1
ASU Symphony Orchestra + Combined Choirs
Thursday, April 26, 2018, 7:30, p.m. ASU Gammage
Jeffery Meyer, Conductor
Soprano Soloist, TBA
The ASUSO is joined by ASU's combined choirs in Poulenc's exuberant Gloria. The second half concludes the 2017-18 season with Mahler's revolutionary and triumphant first symphony.
Francis Poulenc: Gloria
Mahler: Symphony No.1, D major (Titan)

Special Events
Level Up: Music from Video Games ($8 general admission)
ASU Symphony Orchestra + ASU Gospel Choir, Saturday, Oct. 21, 2017, 7:30 p.m. ASU Gammage
Mark Alpizar, Kamna Gupta and Michelle DiRusso, conductors
Don't miss the ASUSO and Gospel Choir performing the music from Tetris, Mario, Halo, and the Grammy-winning soundtrack to Civilizations IV. The audience will also experience music by Tempe's own Christopher Norby, who teaches video game composing at ASU.